Credit Courtesy of Mike Sorrentino/CNET
Developer Kojima and actor Norman Reedus talked about the upcoming action game's emotional impact and connectivity.
If Death Stranding does its job, you might weep while playing it.
Developer Hideo Kojima elaborated on his upcoming PlayStation game's theme and its development Thursday during the Tribeca Film Festival in New York, in a wide ranging conversation with starring actor Norman Reedus and game journalist Geoff Keighley.
No new gameplay footage or images were provided -- Kojima hinted that's possibly coming next month -- but he did tell audiences that the open world action game is designed to bring out all kinds of emotions from a player.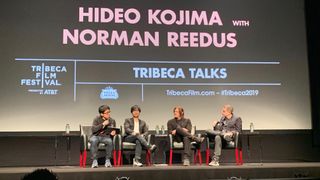 "I think people will cry, yeah," Kojima told the crowd, noting that players will make decisions in the story that are intended to get them emotionally attached. But he also noted plans to stir emotions other than despair, alluding to for example seeking one's own relationship when seeing a romantic couple in public.
"When you actually go out with someone, sometimes you have a great time but maybe [decide] actually I want to go and stay at home," Kojima said to his audience's amusement.
Without revealing plot elements, Kojima noted that the game depicts a very honest portrayal of Reedus in order to help bring out that emotion, updating the game to reflect the actor's tattoos in real life.
To read the full review by Mike Sorrentino of CNET use this link https://www.cnet.com/news/death-stranding-will-make-you-cry-hideo-kojima-tells-tribeca-2019/